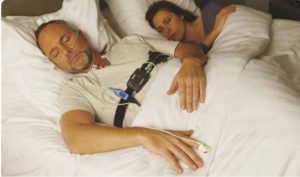 We are part of a Comprehensive Sleep Program with Board certified Sleep Specialist, Dr Ismail evaluating and treating with interpretation of all sleep studies and working with a team of Sleep Dentist, ENT specialist, Neurologist and a Psychiatrist to manage every aspect and full spectrum of Sleep Disorders and all available treatment options.
To determine risk for Sleep Apnea please fill out: Stop Bang Questionnaire
To determine Daytime Sleepiness please complete: Epworth Sleepiness Scale
If any of the following is true, patient should have a Formal Sleep Study in our Sleep Lab, unless patient cannot or refuses it.
COPD with nocturnal use of O2 or ATC
Neuromuscular disease
Stroke
Epilepsy
CHF with shortness of breath with minimal exertion
BMI of 45 and greater
Suspicion for Periodic limb movements, Parasomnias, or Narcolepsy or Central Apnea
Lack of Mobility or dexterity to use portable monitoring equipment safely at home.
Please watch instructional Video on: How to use home sleep testing device.
Please call us to schedule a Home Sleep study at 302-633-9033 or